2017 Koshiki World Championship (28-July-2017)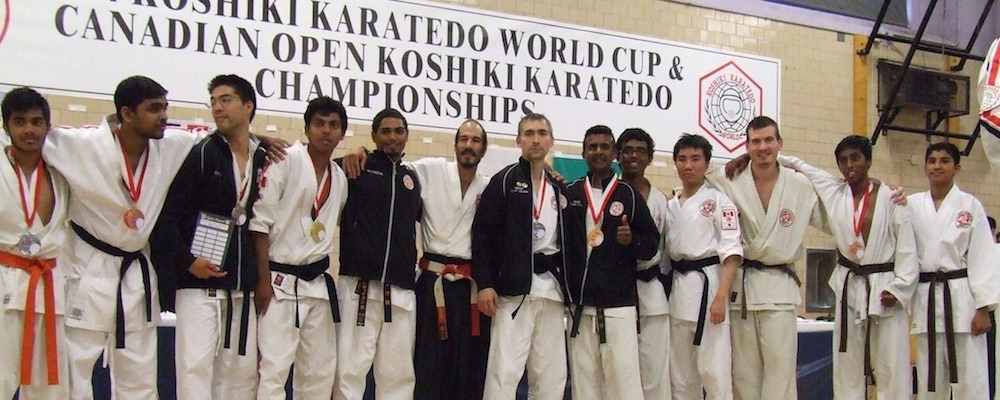 You May Download The PDF Invitation Document Here
---
Spectator Ticket Sales
Individuals wishing to purchase tickets to view the event may do so at the EventBrite link below. Tickets for Saturday July 29th are $5 per person. Tickets for Sunday Finals July 30th are $10 per person.
Purchase Your Tickets At EventBrite By Clicking Here !
---
Dear Shihan / Sensei,
August 15th 2016
On behalf of the World Koshiki Karatedo Federation and the Canadian Koshiki Karatedo Association, it is with great pleasure and excitement that I officially invite you and your team to London, Ontario, Canada, July 28th-30th 2017 for the 2017 Koshiki Super Karatedo World Championships and the 2017 Canadian Open Koshiki Super Karatedo Championships. These events will be held on the beautiful campus of the Fanshawe College, in the city of London, Ontario. The year 2017 will also mark the 50 year anniversary of Hanshi Masayuki Hisataka's arrival in Canada in 1967, where he introduced Shorinjiryu and Koshiki Karatedo in Canada. This milestone will be celebrated at the farewell banquette held after the tournament on July 30th 2017.
In 2014, the Canadian Koshiki Karatedo Association, to great success, hosted the 2014 Koshiki Karate World Cup in London, Ontario, on the beautiful campus of the University Of Western Ontario. Having over 6 hours of television coverage and a wonderful facility, which provided great accommodations and excellent meals at an affordable cost. This 2017 World Championships plans to be even more spectacular, truly showcasing the best and greatest of Koshiki Super Karate. The World Koshiki Karatedo Federation and the Canadian Koshiki Karatedo Association, greatly encourage strong support for this World Championship event from all member countries, in order to make this truly a World Championships. Please contact us as soon as possible and let us know how we can assist you and your team, in your plans for attending this historic event.
We would be honoured to have you and your team join us for this Koshiki Karatedo World Championships and Canadian Open Championships. We will, of course, keep you informed of the details for the events as they become available.
Please let us know how we can help to make you arrangements easier, as we have been given support from the City of London and the University of Western Ontario, to ensure a professional and enjoyable tournament. We will also include seminars conducted by Hanshi Masayuki Hisataka, 9th Dan, which will focus on developing both the Players as well as Coaches/Trainers, making this Championships a great learning and developmental opportunity for all who attend. There will also be an exchange training seminar, geared to building friendships among the competitors and encouraging international relationships.
We look forward to seeing you in London, Ontario, in July 2017, and to hearing from you at your earliest convenience.
Respectfully,
Shihan Paul Jackman
Chairman of the Organizing Committee of Koshiki 2017
---
Please find herein some preliminary information relative to the Koshiki World Championships 2017.
Tournament Venue:

Download the Fanshawe College Campus Map in pdf Here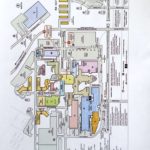 Fanshawe College, Glenn Johnston Athletic Center
1001 Fanshawe College Blvd
London, ON N5Y 5R6, Canada.
Transportation:
To and from Toronto Pearson International Airport & London Ontario Airport
Bus

: Special discounted rates are being negotiated to bring Teams to and from either Toronto International airport (YYZ) or London, Ontario Airport (YXU) to the accommodations and tournament site – Rates and conditions to be announced shortly
Tournament Schedule: (times to be confirmed at a later date)

Canadian Open and World Championships Preliminaries
World Championships Finals
Pre-Tournament Seminars:
Friday July 28th 2017 – 2 seminars, times to be announced / Tournament weight control
Cost: $50 Cad per seminar. Also Referee seminar and certification cost: $50 Cad
Special Events:

Koshiki 2017 Farewell Banquet Dinner, and 50th Anniversary Celebration
Sunday July 30th 2017 (evening)
Tournament Cost:
$150 CAD
Farewell Banquet included.
Lodging:
All-inclusive accommodations are being arranged at Fanshawe College. Costs: $85. Per person per night with suite style accommodation. All meals will be served in the beautiful Oasis Dinning Hall.
Download The Accommodation Registration Form Below

FANSHAWE-Team-Rooming-List-Template-Fillable-Form
FANSHAWE-Meal Registration Form
Please find above the Team Accommodation Registration Form. This form is to be filled out and emailed directly to the Fanshawe College Conference services. confcentre@fanshawec.ca
---
World Championships Tournament Divisions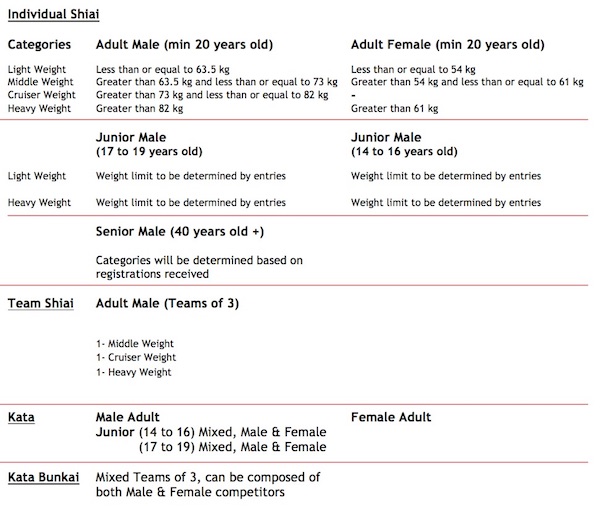 Competitors 13 years and under and Junior Level Adult competitors are invited to compete in the Canadian Open Koshiki Karate championships which will be comprised of divisions based on age and belt level. These divisions will be determined based on entries received.
The above information is provided in order to facilitate your beginning of preparations for the event. Our next communication will include all final details with confirmed accommodation costs and airport transportation, as well as the registration forms for the event.
Although, you may not at this time, have an exact idea of the number of participants that will be representing your country, we would however appreciate finding out if we will have the privilege of hosting representatives from your country at Koshiki 2017 and a conservative estimate of your numbers.
Your reply as soon as possible would be most appreciated!
We hope to have the pleasure of seeing you in London in July 2017.
Please do not hesitate to contact us should you have any questions or would need further assistance. Please use the following e-mail address for communications relating to Koshiki 2017
Also, please do not hesitate to contact me directly by phone with any questions concerns or ideas relating to these championships to: Shihan Paul Jackman at 1-519-694-0754.
Very best regards,
Paul Jackman, Shihan
Luc Gilbert, Shihan
Philippe Nadeau, Shihan